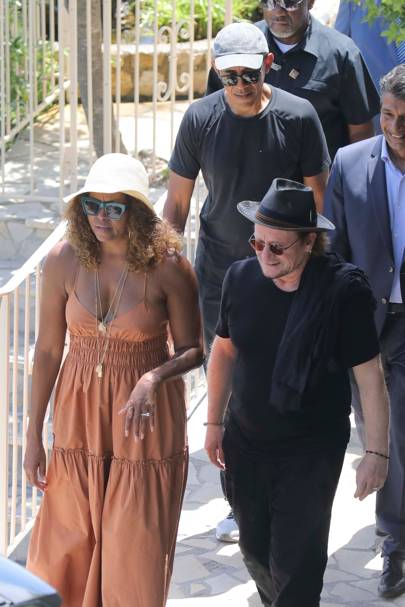 Catherine Johnson believes that Three Graces London, her warm weather dressing brand, quite literally "takes you somewhere". For Michelle Obama, this was quite literally the French Riviera. The former First Lady was pictured wearing the copper cotton "Emma" sun dress while strolling through the medieval city of Èze alongside Bono (yes, Bono) this weekend.
Johnson does not know how Obama came across her 2015-founded label, which quickly became a fashion editor's favourite owing to its relaxed silhouettes, neutral palette and easy-yet-luxe fabrications. But it's likely her longtime stylist Meredith Koop – the woman behind Obama's Stine Goya and Roksanda suiting, and those holographic thigh-high Balenciaga boots on her Becoming book tour – had something to do with it.
"Michelle Obama is a modern-day icon," Johnson affirms of that spine tingling feeling of seeing a global ambassador wear one of your designs. "She personifies grace and elegance in everything she does and how she looks. We love how she has styled the dress, it's so easy to wear."
And there lies Three Graces London's USP: its effortlessness. As the resort wear category becomes more concentrated, timeless, quality summer pieces shouldn't be so difficult to source – but, in an industry which is still pumping out £1 bikinis (here's looking at you Missguided), it can be. "We put a lot of thought into the range of clothing that might be required while on vacation," says Johnson of her creative process. "We work with our European fabric mills to make beautiful materials for us to produce interesting designs that work for a variety of body shapes – and, can be worn at different times and in different ways."
Obama paired her £450 cotton-poplin bell-shaped maxi with stacked gold chains, hoop earrings, a straw hat and bumper sunglasses for the trip to the two-Michelin-starred restaurant, La Chèvre d'Or. "We always consider how a dress can be worn on holiday but also in the city," Johnson continues of the "Emma" style, which comes in a tangy raspberry hue too. How fortunate, then, that the next stop on the Obamas' European tour is George and Amal Clooney's Italian villa on Lake Como. Did we mention Three Graces London does swimwear and sleepwear too?
It's not hard to imagine the two high-powered women milling around the idyllic shorelines in the brand's exquisite linen and sandwashed silk, but Johnson says, "We don't really think of any one person… Our dresses conjure up a frame of mind." That's mood-boosting fashion you can't disagree with.
More from British Vogue:


ViaVogue