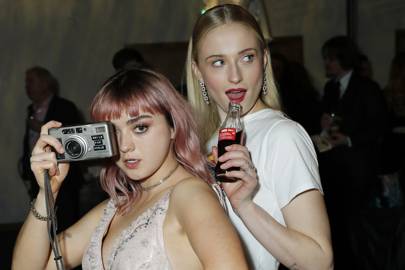 Belfast's Waterfront Hall hosted the stars of Game of Thrones for the European premiere of the eighth and final installment of the series on Friday – and to celebrate, Maisie Williams turned photographer for the night, exclusively for Vogue.
Maisie Williams Wanted A Pink Dress With "Elegance And Attitude" For The Final Game Of Thrones Premiere
"It was amazing, we had the best time!" says Williams, her voice only just coming back – a sure sign of a good night. "It was so good to see everyone. I hadn't really thought about how emotional that would be: going back to Belfast; checking into the same hotel that we used to stay in when we were shooting; being with the cast… It was the perfect way to say goodbye to the show."
Dressed in a custom Coach creation, Williams was armed with a Contax TVS camera and given carte blanche to capture the evening. Here, she takes us behind the scenes at the Game of Thrones season 8 premiere and after-party.


ViaVogue