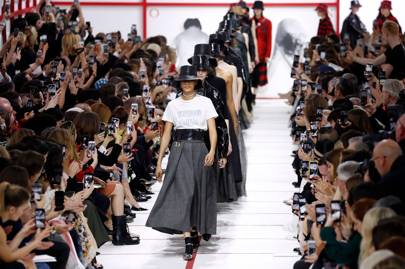 Following three weeks of couture-influenced shows in New York, London and Milan, the biggest surprise of the autumn/winter 2019 season was the message in Paris: clarification, simplification, and purification. "I think a dress has to be wearable. Otherwise it's a piece of art you can put on your wall. You have to make creative pieces for real life. If I buy something it's because I want to use it every day," Maria Grazia Chiuri said of her Christian Dior show, which interpreted the codes of the house in contemporary and practical manifestations that felt decidedly shopping focused. "If you are a brand with such a huge history, you have to maintain the codes. But the brand has to be contemporary, so I think about maintaining time. I don't think a brand like Dior has to be so close to the idea of seasonal. You don't buy a piece for one season only." It's widely accepted that Chiuri's collections – of a more accessible nature than past creative directors' – have increased sales at the house. That watchful eye of retail and revenue continued to hover over the Paris shows.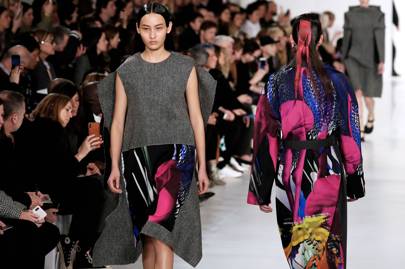 "This house has a such a long story but my job is to modernise it make it appealing to the customer we have today. That was the exercise," Demna Gvasalia said after a 109-exit Balenciaga show that encompassed every corner of his potential customer base, interpreted through the social classes of Paris. Underlining a sense of shopping drive, models on the runway carried Balenciaga carrier bags and quilted handbags that resembled the shape of nets familiar to grocery shopping. "It's for people who actually love fashion and go shopping. That's what I do," Gvasalia shrugged. "I thought it was real. When I walk down the street in Paris now – which is rare – that's what I see." The Balenciaga show sometimes bordered on the reduced to a degree of irreverence, at least in the context of a runway. But if you came to see the couture shapes and Parisian pizzazz that prevailed elsewhere in the fashion landscape, Gvasalia provided for that, too. At Maison Margiela, John Galliano had been thinking about the impact of the excess that surrounds us in the digital age.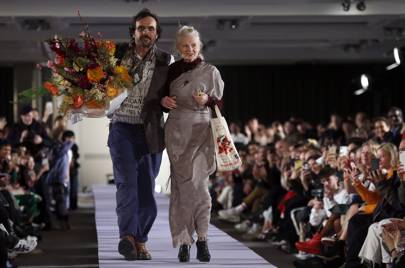 "We are overwhelmed with so much imagery that you almost want to regurgitate," he said in podcast for his haute couture collection in January. "But perhaps inverted excess could lead to something a little more minimal?" Three weeks on, Galliano presented just that: a ready-to-wear collection that reduced the techniques and codes he's been developing at Maison Margiela over the past five years to a succinct core that made you want to buy each and every of those coats and suits straight off the runway. "Taking things right down their purest, to the necessary," he reflected, and it felt like a relevant point. In self-penned show notes, Andreas Kronthaler wrote about "reducing the product to its essence". In short: "I've just made the necessary things. In the showroom, too," he explained. His eponymous collection for Vivienne Westwood strived to repurpose the very way in which the manufacturing process works, using the many sample cloths factories make for the industry.
"One tends to throw things around and be a bit unsure, but this time I had to be careful not to waste anything and not make anything I didn't need," Krontahler said. While he was the only designer – apart from Stella McCartney but that is her territory – who mentioned sustainability as the reason for Paris' newfound sense of reduction, it went hand-in-hand with the idea of building a wardrobe not so driven by disposable trends. It was reflected in the sophomore collection of Hedi Slimane at Celine. While, for the last six months, the designer let the congregated fashion industry believe he was going to turn Celine into a continuation of the codes and silhouettes he built at Saint Laurent, he was biding his time for the plot twist in chapter two: the observance not of Phoebe Philo's opus at the house but the original Celine archive that inspired her in the first place. With its faint air of the 1970s, masculine outerwear, bourgeois heritage culotte suits, French country dresses, and bohemian ponchos and teddy bear coats, it had a distinct echo of the elegantly pragmatic wardrobe so called for in fashion at the moment.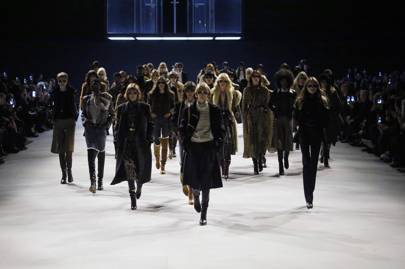 The wardrobe Philo created at Celine was often referred to as 'intelligent' clothes. Since her departure, designers have seemed keen to take the reins of her sophisticated handsome glamour, something that was clear in critically applauded shows from Paco Rabanne and Chloé to Loewe. It also appeared at Lanvin where Bruno Salielli – a former Loewe and Rabanne designer – had his debut, presenting a collection that fell into the arty and eclectic corner of fashion exemplified by the Loewe he came from. In its patchwork of nomadic and folkloric elegance – a richness of fabrication, surface decoration and peculiar cuts and layering – it looked like Loewe: a little bit rooted in art, in pseudo-intellectualism and of course 'the traveller'. The look was part well-to-do gallerist and part eccentric librarian. But Paris wasn't without its glamorous moments.
Pierpaolo Piccioli had an annus miribilis last year, and his influence has resounded from the runways of emerging designers to the grandes maisons this season. The Valentino Effect, we've called it: dramatic volumes, dreamy colours, and majestic romanticism. "After the couture, I wanted to move away from safe territory. A change of silhouette," he said of his first ready-to-wear collection of the new year. Still sculptural in the tradition of haute couture, his new daywear was characterised by a slight de-volumizing of coat shapes, amplified long lines, and intensified mini-dresses. Then, he let Jun Takahashi of Undercover – who collaborated on motifs for last month's Valentino men's collection – plaster coats and dresses in prints featuring photographs of neo-classicist lover statues. Piccioli adorned them with rose embroideries and sprinkled beads and sequins on top.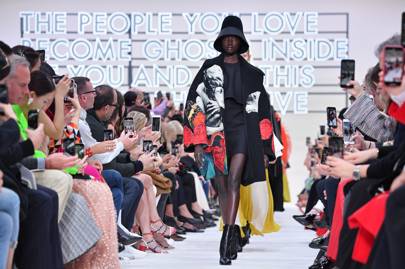 But it was when he stripped his exquisitely draped dresses and fluid tailoring of all motifs and embellishment, and dared to let them breathe in all their purified, ravishing and painterly glory, that Piccioli's collection was at its strongest. Because the truth is that this couturier's charismatic talent and feeling for clothes are so strong he doesn't need designer collaborations, prints or poetic slogans to evolve the universe he has created at Valentino. He really is a poet in his own right. Speaking of poets, Rick Owens had been feeling the glamour, too. "Everybody's kind of complaining about how the world is going down the toilet. It's always been going down the toilet! We've never lived in a generation as luxurious as ours now. With all of this knowledge at our fingertips, this is the most luxurious we've ever had it. And we're still complaining. There's a sense of entitlement to that," he said.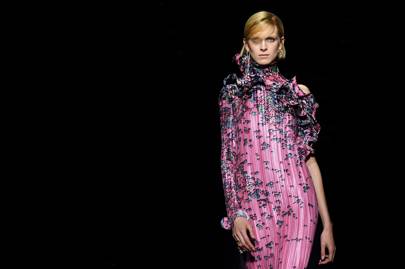 "So, I just thought, stop the complaining. I'm just going to do the most fierce, glamorous collection I can do. But kind of like a hard glamour. We all have to deal with adversity so shut up and put on some make-up." And so he did, in Charles James-inspired cocoon coats reinterpreted in nutria and ravishing oxblood gowns constructed like metal plates forged to the body. At Givenchy, Clare Waight Keller showed an eclectic collection that demonstrated her newfound exuberance at the house. "The couture infiltrates through all of the collections now. There are elements of it that feel so important to the progress of ready-to-wear," she said. It was clear in voluminous nylon taffeta structures borrowed from couture that made for the most compelling structures in the collection, and in her pristine racehorse tailoring which deserved to be exercised and clarified in a multiple-look study to really hammer home the proposal.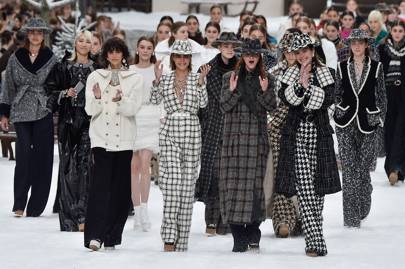 The day before the Chanel show, the Wertheimer family – which owns the house – confirmed the appointment of Karl Lagerfeld's long-time employees Virginie Viard as artistic director of fashion collections and Eric Pfrunder as artistic director of fashion image. Preceded by a minute of silence for Lagerfeld, who died on February 19th, they presented a show that didn't just honour the unsentimental and forward-thinking nature of the legendary couturier, but demonstrated that spirit in a collection that showed Chanel in its chicest and most clarified essence. True to Karl's tradition, every outfit was devoted to the season theme – snowy peaks, alpine skiing and the pastime glamour of chalet life – but within those frames, it exercised some of the most desirable elements of Chanel's genetics. The opening looks drew on the transformation of heritage fabrics and codes native to the English men's wardrobe in handsome dandy-esque coats and interpretations of the emblematic tweed jacket Coco Chanel came up with on a visit to Salzburg, not far from the chalets of Tyrol.
What became evident in the Grand Palais on that Tuesday morning was that Lagerfeld – like few legends before him – was so larger than life that his creative presence will be felt in death as it was in life. As he joked himself, he wasn't entirely of this planet: a force of super-nature bestowed on us to reflect the world through eyes that often seemed omniscient and otherworldly. The alpine theme of his final Chanel show was as astute and magically predictive as so many of his past stagings have been. Where Lagerfeld would use his themes to make playful and occasionally underhand observations about society in the past, his wintry swan song seemed to reflect this definitive chapter of his life and 65-year-long career in fashion. Michel Gaubert played David Bowie's Heroes, the song his friend liked so much, to a standing ovation finale. After the show, Gaubert posted to his Instagram the picture featured on every seat of Karl's drawing of himself next to Coco Chanel with the words "the beat goes on" hovering over them. "That's the way you always wanted it, Karl," he wrote. "I love you forever."


ViaVogue