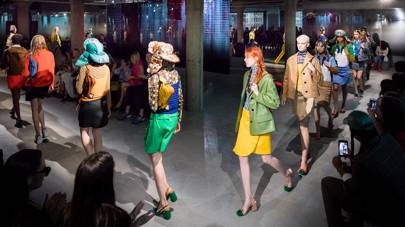 Spring in New York is set to be a high-fashion affair. The Met Gala, which takes place annually on the first Monday in May, has always had the pulling power to draw in the industry's great and good. But, this year, brands have organised their own events around the fundraiser, in order to capitalise on the crowds visiting the capital.
Prada will present its resort 2020 collection at a catwalk show on May 2. The location is still undisclosed, but the label's first foray across the Atlantic saw Basel-based architecture studio Herzog & de Meuron reimagine the company's headquarters on West 52nd Street. The short promo clip announcing the date hints that the show will be equally Insta-friendly and that the Milan-based brand will maximise exposure via NYC's mammoth shopping districts.
On May 8, meanwhile, Louis Vuitton will stage its cruise 2020 show at a similarly secret location. The brand has previously held events at the former stock exchange, the South Street Seaport, and in a pop-up shop in the Meatpacking District, so the odds are on something equally offbeat and impactful.
Both Prada and Louis Vuitton will be banking on celebrities, models and influencers staying in the city for the entire duration of the festivities, but will it pay off? The cost of a travelling company is immense, and the capacity of such atmospheric venues no small task to fill.
However fruitful these endeavours, expect your Instagram feed to be populated with personalities keen to show off the fact they were invited to May's new trinity of fashion events.


ViaVogue